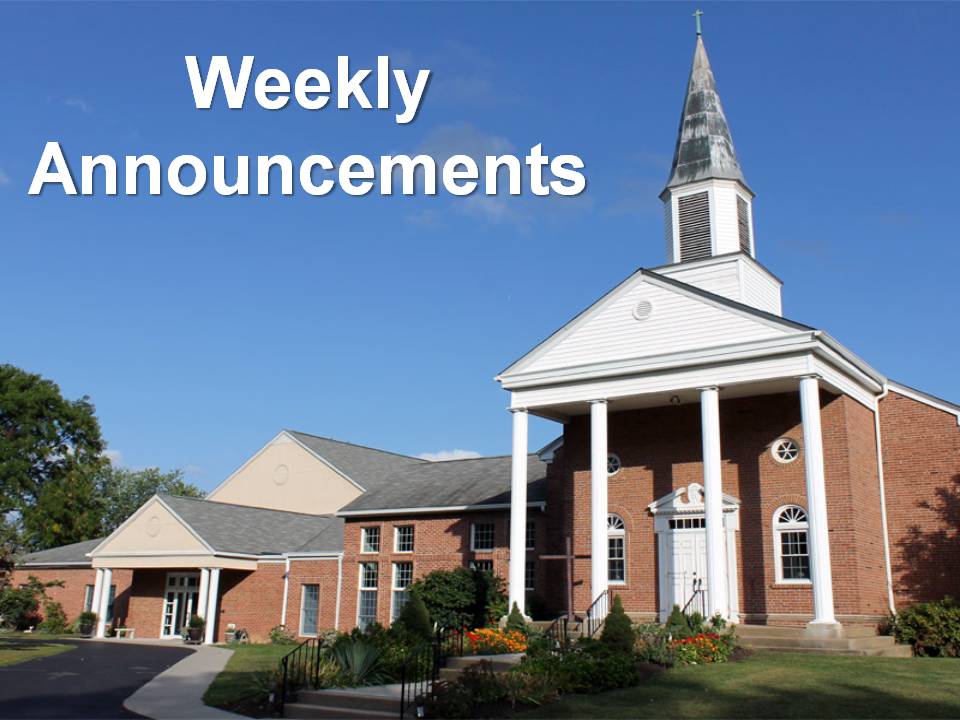 Sign up for our email newsletter to receive these updates in your inbox each week.
THIS WEEK'S ACTIVITIES
| | | |
| --- | --- | --- |
| Sunday | 8:00 a.m. | Traditional Worship |
| | 9:00 a.m. | Cafe |
| | 9:30 a.m. | Contemporary Worship |
| | | Sunday School |
| | 11:00 a.m. | Traditional Worship |
| Monday | 7:00 p.m. | Voices of Victory rehearsal |
| | 7:30 p.m. | Prayer Group Meeting |
| Saturday | 9:00 a.m. | Relay for Life Clothing Drive |
FOOD AND FELLOWSHIP LUNCHEON
This past Wednesday, we had the first of our monthly free soup and sandwich luncheons at the church.  If you know someone who would benefit from getting out, someone who would appreciate spending an hour or so with others over a meal, or anyone else you think might be interested, please invite them to join you for this monthly event.  We are going to call it the "Food and Fellowship Luncheon," and it will occur next on June 1, at 1:00 p.m. 
PEOPLE WITHOUT PARTNERS
Starting on May 16th, there will be a monthly game day at the church from 12:00 p.m. to 3:00 p.m. to get out, spend time having fun with others, and chat with someone new. There will a variety of games to play. Cards, dominoes, and puzzles will also be available. Light refreshments will be served. For more information, talk to Grace Henderson or Dee Henderson.
ANNUAL CONFERENCE EARLY MORNING COMMUNION SERVICE
Given the ongoing issues with Covid transmission, the Eastern Pennsylvania Annual Conference will be virtual again this year. When it was live, there was always a short early morning communion service at the venue. Since the conference will be online this year, we will be hosting this service in our sanctuary to be streamed as part of the conference events. It will occur on May 20 and May 21 at 7:30 am in our sanctuary. You are welcome to attend!
FOOD DISTRIBUTION- SHARED BLESSINGS BOXES
At 2:00 p.m., on May 21 we will make our next food box distribution to families in our community who need help. You can help by continuing to bring canned goods to church each week. You can also donate other kinds of non-perishable food items, and even fresh vegetables and fruit. Those items need to be purchased and/or brought to the church close to the day of distribution day however. To help in that way, contact the church office. Items other than basic staples that are needed include instant milk, oleo or butter, vegetable oil, muffin mix, paper towels, toilet paper, tissues, napkins.
OLD ST. GEORGE TRIP
On Saturday, May 28, the Confirmation Class will be visiting Old St. George UMC in Philadelphia. We will leave the church at 12:00 p.m., and anyone interested in going is welcome to join us in visiting this historic building.
MISSION PARTNER FOR MAY: WEE CARE
Help us support the Wee Care Women's and Children's Shelter by putting the following items in the portable crib in the lower lobby, just inside the glass doors.
Items Needed for the children:
crib sheets, onesies and diapers (infant size), bottles, sippy cups, spoons and forks, night-time pullups for older children, wipes, baby blankets, baby wash and shampoo, children's socks, baby finger food, pajamas, juice boxes
Items needed for the moms:
women's underwear (large), bra's (large, extra large), lotion, powder, shampoo, Q-tips, suntan lotion, socks
THE GIVING GARDEN
If you would like to help provide families in our community with fresh vegetables, please contact Karen MacLaren at 215-801-7514 or speak to Beckie in the office about helping. For those unable to help, financial donations are appreciated.
OUTREACH DIRECTOR
To help oversee the work of outreach from our congregation into the community, and to help members create and build new ministry efforts for the purpose of outreach, we are advertising for a new staff position: Outreach Director. It will be a part-time position. Applicants should have a desire to see new people enter into relationship with Christ, grow as His faithful disciples, and be equipped to share His love with others. Knowledge about computer technology, social media, and evangelism would be needed. And certification as a Christ Servant Minister would also be helpful. For more information, talk to Pastor Lloyd.
SUMMER CAMP
Are you interested in sending children to summer camp at Pocono Plateau? We are looking to send a group of children the week of July 10-16th. This will include Youth Camp for grades 6th-12th and Children's Camp Mania for grades 3rd-6th. Our church will be providing 100% scholarships for any children interested in going. If you're interested, please contact Sarah Hicks (call or text 215-962-5755) or call the office for more information. If you would like to contribute toward the cost, you can make donations to our church scholarship fund.
STREAMING INFORMATION
For those not able to attend Sunday worship services in person for health reasons or being away, and for our members to invite others to join us virtually as a first step toward in-person worship, there are two ways to participate online:
Facebook: https://www.facebook.com/ChristMethodist
YouTube: https://www.youtube.com/channel/UCrYAAsXFbJfhJAFKET3fjOQ
PRAYER GROUP
Mary Ellyn Kunz is coordinating a prayer group named "Let's Pray on That." They are meeting on Monday nights at 7:30 PM in the church grove (across from the parsonage at the back of the parking lot). You can be part of the group even if you are not comfortable praying out loud; God hears silent prayers, too! Call Mary Ellyn for more information, or to join the group.
ALUMINUM CANS
Help maintain our church property by putting used aluminum cans in a secure bag or packaging, and placing them in the BROWN BOX at the parsonage end of the parking lot.
PRAYER SHAWL MINISTRY
If you would like to give comfort to someone you know with a prayer shawl or a prayer blanket contact Suzanne Generose, Dot Gerhart, or Mary Lou Reside. Donations gladly accepted!
SCRIP IS AVAILABLE
We are continuing to sell scrip for Shoprite and Giant food stores, as we receive 5% back from what you spend. We are also continuing to collect receipts from the 5 Brown owned Shoprite stores in the area (from receipts no older than 5 months), and from Redners as we get 1% back. To get credit from Redners, you must swipe your card. To buy scrip, contact the church office, or Judy Austin. Receipts can be dropped off on Wednesdays from 10 am to 12 pm.
PRAYER LIST
We publish the prayer list in the emailed announcements and in the printed Christ Courier bulletin insert that we produce each week. If you do not have access to those, or want to add someone to the prayer list, contact the office, Beckie Teenie, or Jen Chrostowski.