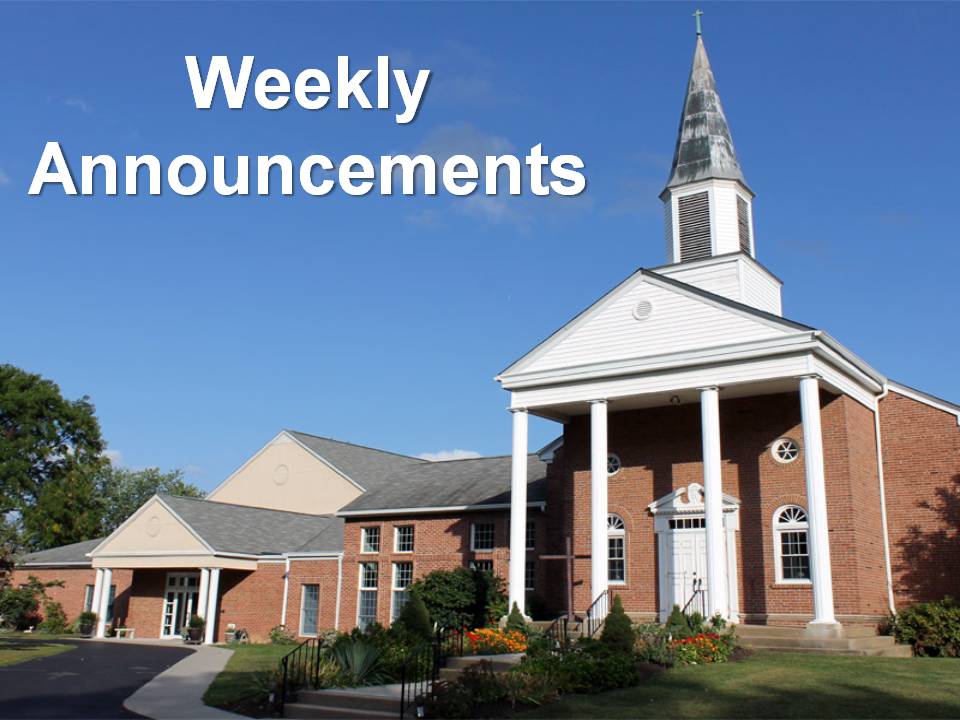 Sign up for our email newsletter to receive these updates in your inbox each week.
| | | |
| --- | --- | --- |
| Sunday | 8:00am | Traditional Worship |
| | 9:30am | Contemporary Worship |
| | 11:00am | Traditional Worship |
| Monday | 7:00pm | Voices of Victory rehearsal |
| | 7:30pm | Prayer Group meeting |
| Thursday | 7:00pm | Disciple 1 Bible Study |
DISCIPLE 1 BIBLE STUDY
Disciple 1 takes participants through the Bible, reading selections in the Law, the Prophets, the gospels, and the letters of various apostles. We will have our first session on Thursday, January 5, at 7:00 p.m. If you'd like to be involved, or want to find out more about what participating would involve, it is not too late. Talk to Pastor Lloyd or Mary Ellyn Kunz for more information.
EPIPHANY SUNDAY
On January 8, we will celebrate Epiphany Sunday, and ponder not only what the scriptures tell us about the gospel message moving beyond the nation of Israel to all the world, but what God wants us to do today to share the gospel "in Jerusalem, in Judea, and to the ends of the earth."
BAPTISM OF THE LORD SUNDAY
Baptism of the Lord Sunday is January 15. During worship, you will have the opportunity to not only remember your baptismal vows, but also renew them. Join us and listen for God to speak to you about what it will mean to be a Christian – and a member of Christ UMC – in 2023.
POCONO PLATEAU
Carmen O'Shea is the new director at Pocono Plateau. She will be with us on January 15 to speak about children and youth camping opportunities, adult retreat possibilities, as well as other special events they run throughout the year. In addition to speaking about those things in worship, she will be available during Café time for conversation.
CONFIRMATION CLASS
In the sacrament of baptism, God initiates a relationship with a child and makes them a member of the faith community. When the child is old enough, they "confirm" that relationship by taking on the commitments of Christian life for themselves in Confirmation. Confirmation classes for those 7th grade and higher typically begin in January, and run for several months, culminating on Pentecost Sunday. If you have a young person interested in being confirmed in 2022, please call the church office.
MISSION DESSERT NIGHT
At 6 pm on Sunday, February 5, 2023, we will have our next Mission Desert Night. You are invited to bring your favorite dessert to share as we share information about how we are having an impact for Christ through these mission partners.
JANUARY MISSION PARTNER
Our Mission Partner in January will be the Emergency Relief Association (ERA). Since we are collecting food for our Blessing Box Ministry, we are asking for monetary donations to help them purchase fresh items like eggs and milk.
FOOD DISTRIBUTION- SHARED BLESSINGS BOXES
The next Shared Blessings pick up will be at 2:00 p.m. Saturday, January 21. Please continue to bring canned and non-perishable foods when you come to church each week.
ADVANCED SAFE SANCTUARY TRAINING
Our next annual Advanced Safe Sanctuary training event will be Saturday, February 11, 2023, 10 am to 12 pm. All persons working with children or youth must attend this event as part of our Safe Sanctuary policy requirements.
2023 STEWARDSHIP COMMITMENTS
If you have not yet turned in your financial giving commitments for 2023, it is not too late. Send it to the church office, or turn it in with your offering.
ONLINE GIVING
If you are not able to make it to worship, please also remember that you can give online by going to our web site (www.christmethodist.net) and clicking on the "Online Giving" link. It's quick. It's easy. And it's a great way to be generous.
STREAMING INFORMATION
For those not able to attend Sunday worship services in person for health reasons or being away, and for our members to invite others to join us virtually as a first step toward in-person worship, there are two ways to participate online:
Facebook:https://www.facebook.com/ChristMethodist
YouTube:https://www.youtube.com/channel/UCrYAAsXFbJfhJAFKET3fjOQ
PRAYER GROUP
Mary Ellyn Kunz is coordinating a prayer group named "Let's Pray on That." They are meeting on Monday nights at 7:30 PM in the church grove (across from the parsonage at the back of the parking lot). You can be part of the group even if you are not comfortable praying out loud; God hears silent prayers, too! Call Mary Ellyn for more information, or to join the group.
ALUMINUM CANS
Help maintain our church property by putting used aluminum cans in a secure bag or packaging, and placing them in the BROWN BOX at the parsonage end of the parking lot.
PRAYER SHAWL MINISTRY
If you would like to give comfort to someone you know with a prayer shawl or a prayer blanket contact Suzanne Generose, Dot Gerhart, or Mary Lou Reside. Donations gladly accepted!
SCRIP IS AVAILABLE
We are continuing to sell scrip for Shoprite and Giant food stores, as we receive 5% back from what you spend. We are also continuing to collect receipts from the 5 Brown owned Shoprite stores in the area (from receipts no older than 5 months), and from Redners as we get 1% back. To get credit from Redners, you must swipe your card. To buy scrip, contact the church office, or Judy Austin. Receipts can be dropped off on Wednesdays from 10 am to 12 pm.
PRAYER LIST
We publish the prayer list in the emailed announcements and in the printed Christ Courier bulletin insert that we produce each week. If you do not have access to those, or want to add someone to the prayer list, contact the office, Beckie Teenie, or Jen Chrostowski.