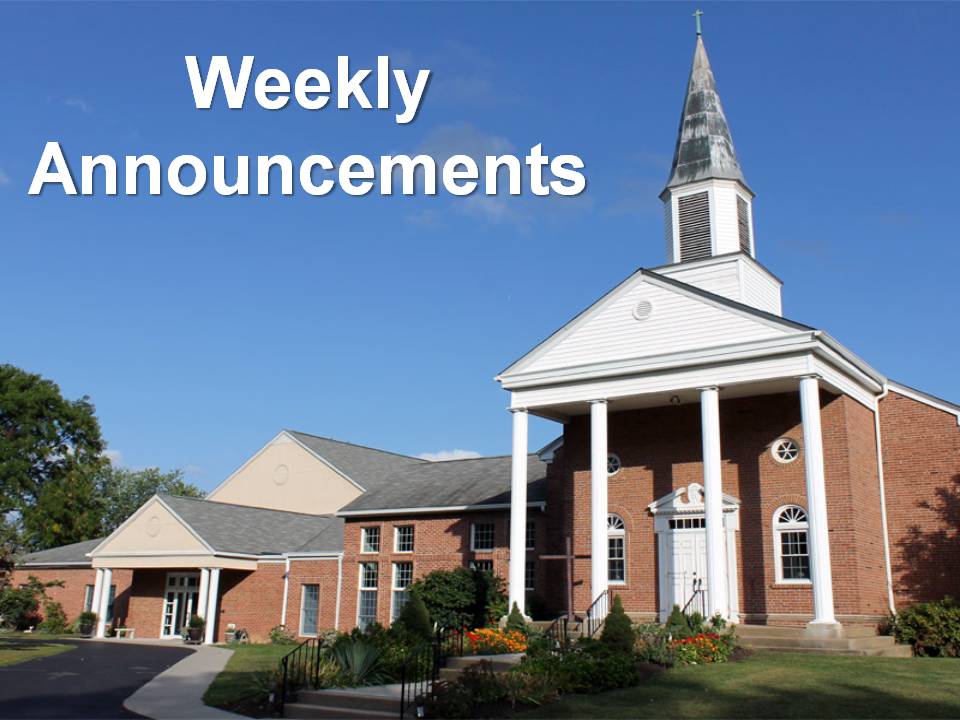 Sign up for our email newsletter to receive these updates in your inbox each week.
THIS WEEK'S ACTIVITIES
Sunday
9:00 a.m.
Contemporary Worship
(Facebook and parking lot FM, and sanctuary)
11:00 a.m.
Traditional Worship
(Phone and parking lot FM, and sanctuary)
7:00 p.m.
Disciple 2 Bible Study
Monday
7:30 p.m.
Prayer Group Meeting – by phone
Tuesday
7:30 p.m.
Finance Committee Meeting
Thursday
7:00 p.m.
Disciple 1 Bible Study
Saturday
2:00 p.m.
Blessing Box Distribution
BLESSINGS MINISTRY
There are many people who continue to be in need in our community. We are trying to help by providing "Bags of Blessings" on the first Saturday each month (with food donated by local businesses) and "Boxes of Blessings" on the third Saturday each month (with canned goods and nonperishable food items donated by our members). WE ALSO NEED HELPERS! Call the church office if you are willing to serve God and neighbor in this way. NOTE: If you cannot donate food items because you are not out shopping, or can't make it to the church, you can also add a designated gift to your regular giving labeled "Blessings Ministry." That will allow those who can shop to get needed items.
EVERY MEMBER MINISTRY COMMITMENT
Even though we are yet not back to doing everything we have done in past years in mission and ministry, we still need people to help in a variety of ways.  So we will be asking people to sign up to help in the ways we will be in mission and ministry over the next numbers of months.  If you are able to help, we invite you to say yes to being the hands and feet of Jesus through our church by sending an email to the church indicating which of the following ways God has gifted you to serve Him:
Praying For One Another: We are looking for people to pray for about 5-6 members/families of our church each day.
Prayer Chain: We are looking for persons to pray for the many needs that are brought to our members for prayer.  We have a prayer chain that runs by phone, and another that runs by email.
Church Garden: We need persons to help with growing and harvesting vegetables so we can help those in need with fresh food.
Blessings Ministry: We need persons to help with collecting and sorting food, helping distribute food on the first and third Saturdays of the month, and purchasing needed food items to include in the distributions.
Parking Lot Attendant: We need people to welcome those who attend worship by FM in the parking lot, direct parking, hand out bulletins, and collect offering. (9:00 a.m.  and 11:00 a.m.)
Usher/Greeter: We need people to welcome those who attend in person worship in the sanctuary, and handle any logistical items that come up during/after worship. (9:00 a.m. and 11:00 a.m.)
Video Ministry: We need people to help coordinate the cameras for the video streaming system so that the presentation on Facebook looks good. (9:00 a.m. and 11:00 a.m.)
Lay Reader: We need persons to be part of worship service leadership: reading scripture, giving the call to worship, etc. (9:00 a.m. and 11:00 a.m.)
SOUND AND VIDEO MINISTRY
The electronic streaming equipment has been installed so we can provide a better video broadcast of the service as well as better sound for those calling in by phone. For the new equipment work well, need a team to help us. The work is not difficult. Anyone familiar with computers/electronics can do it. Even teenagers! If you will help, contact Jim Glaser, Lynn Pennell, Pastor Lloyd, or the church office today!
THE GIVING GARDEN
The food from our church garden goes to our monthly Blessing Ministry. But to do that, we need help throughout the spring and summer with watering, harvesting, and occasional weeding. If you would be willing to help, please contact Karen MacLaren or Becky Teenie in the office.
CHRIST UNITED METHODIST WOMEN
Help support our missions! We are taking your orders for Rada knives, etc. You can view the catalog here. Contact Gloria Seacrist to place an order.
FINANCE AND STEWARDSHIP UPDATE
Over the last year, many churches have struggled having enough funds to continue to do Christ's work in their community. We have been fortunate not to have been in that situation. Our giving has been down from previous years however, and could become a problem as we begin to slowly return to more in person ministry activities (as those things will return our ministry costs to pre-Covid levels). But we know that if our members continue to use God's blessings through giving back to Him through His church as faithful disciples of Jesus, we will continue to have the funds we need to do the ministry Jesus wants us to do in His name in our community and in the world.
If you have not yet picked up your 2021 offering envelopes, they are in the church lobby waiting for you. And don't forget, you can also give electronically here.
BEST SAFETY PRACTICES FOR CHURCHES
The Eastern PA Conference places the health and welfare of our members and the surrounding community as the first priority in making decisions around church activities. Congregations must therefore be committed to resisting the spread of the virus by following state and city guidelines. To do that, we recommend the following guidelines:
Capacity: We recommend 15% for indoor events and 20% outdoor events.
Masks: Wear face masks while at church.
Social Distancing: Maintaining 6 feet of distance between each person/family.
Singing: Social distancing between singers and the congregation. Using bells/instruments is a preferred alternative to singing.
No touch alternatives: Continue to use no-touch alternatives for passing the peace, collecting offering, and liturgical resources.
Cleaning: Cleaning surfaces and all common areas after each event.
Communion: Pre-packaged, sanitized communion packets are the best option.
Small Groups: Small groups can meet with distancing guidelines and face masks. Use online options when possible.
Office: Office functions can resume, with precautions.
Cleaning: clean between groups
WHAT CAN I DO AFTER I AM VACCINATED
If it has been two weeks since your second dose of the Moderna or Pfizer/BioNTech vaccine, or your single dose of the Johnson & Johnson vaccine, the US Centers for Disease Control and Prevention says fully vaccinated people can:
Visit other vaccinated people indoors without masks or physical distancing
Visit indoors with unvaccinated people from a single household without masks or physical distancing, if the unvaccinated people are at low risk for severe disease
Skip quarantining and testing if you're exposed to someone who has Covid-19 but are asymptomatic. (But you should still monitor for symptoms for 14 days.)
But full vaccination doesn't mean you can run wild and ditch safety precautions! We're still far away from herd immunity, so health experts say you still need to:
Wear a mask and keep distance around those who are unvaccinated and at increased risk for severe Covid-19
Wear masks and physically distance when visiting unvaccinated people who are from multiple households
Keep physical distance in public
Avoid medium- and large-sized crowds
Avoid poorly ventilated public spaces
Wash your hands frequently
Get tested for Covid-19 if you feel sick
CONFIRMATION CLASS
If you have a young person in your family who is interested in being confirmed in 2021, please call the church office to let us know. While we have not yet determined how we might run such a class, we do want to offer it if we have youth who are interested in being confirmed as members.
WORSHIP SERVICES
You can participate in both our 9:00 am and 11 am worship services in person in the sanctuary (with masks and social distancing), by FM 87.9 in the parking lot, and on Facebook: https://www.facebook.com/ChristUMCFairlessHills/
Our 11:00 am service is also available by phone. Call the church office to get the information you need to call in.
SUNDAY SCHOOL
Since we are still in a time of uncertainty regarding the safety of our children gathering together in groups, we are uncertain when we might be able to restart regular graded Sunday school classes. Our hope is that sometime this year, we still might be able to do start up again however. But to offer something right now, we want to let parents know that Cokesbury has free Sunday School videos and curriculum online. You can find it at: https://www.cokesburykids.com/free-resources
PRAYER GROUP
Mary Ellyn Kunz is coordinating a prayer group named "Let's Pray on That." They are meeting on Monday nights at 7:30 PM in the church grove (across from the parsonage at the back of the parking lot). You can be part of the group even if you are not comfortable praying out loud; God hears silent prayers, too! Call Mary Ellyn for more information, or to join the group.
PRAYER SHAWL MINISTRY
If you would like to give comfort to someone you know with a prayer shawl or a prayer blanket contact Suzanne Generose, Dot Gerhart, or Mary Lou Reside. Donations gladly accepted!
THE UPPER ROOM
The Upper Room is available in a virtual manner. To download a PDF version, use the following link: www.upperroom.org/standingorderchurches. Since this publication is copyrighted, they do ask however that you do not republish it in any way (like on Facebook). You can, however, forward the PDF copy to someone by email if you wish to share it with a friend.
SCRIP
We are continuing to sell scrip for Shoprite and Giant food stores, as we receive 5% back from what you spend. We are also continuing to collect receipts from the 5 Brown owned Shoprite stores in the area (from receipts no older than 5 months), and from Redners as we get 1% back. To get credit from Redners, you must swipe your card. To buy scrip, contact the church office, or Judy Austin. Receipts can be dropped off on Wednesdays from 10 am to 12 pm.
ALUMINUM CANS
Help maintain our church property by putting used aluminum cans in a secure bag or packaging, and placing them in the BROWN BOX at the parsonage end of the parking lot.
CLEANERS
We need people who are not in an at risk category to help clean the worship area after each service. Contact Ken Evans to volunteer.
USHERS, GREETERS, DOOR AND PARKING LOT ATTENDANTS
We need people not in an at risk category to serve in these roles for the first month or so. Contact Andy Rozek to volunteer.
INCOME ISSUES
If you need help, or know of someone who does, please contact the church office. We have funds available to help those in need. If you need someone to shop for you (so you don't have to go out), or would like to shop for someone who shouldn't go out, please contact the church office.
PRAYER LIST
We publish the prayer list in the emailed announcements and in the printed Christ Courier bulletin insert that we produce each week. If you do not have access to those, or want to add someone to the prayer list, contact the office, Beckie Teenie, or Jen Chrostowski.