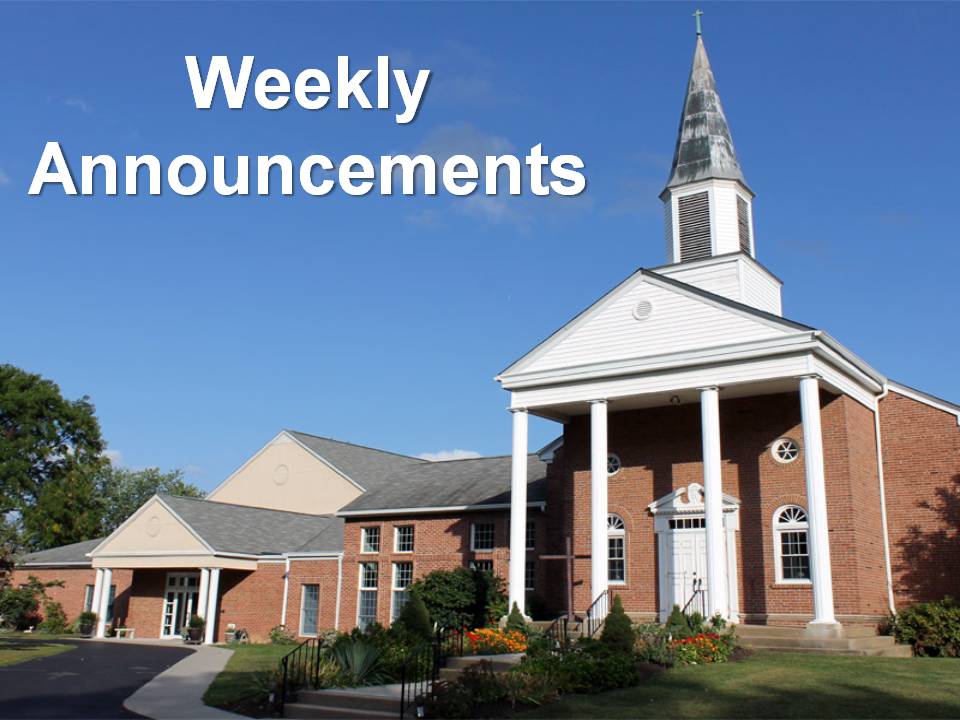 Sign up for our email newsletter to receive these updates in your inbox each week.
THIS WEEK'S ACTIVITIES
| | | |
| --- | --- | --- |
| Sunday | 8:00 a.m. | Traditional Worship |
| | 9:30 a.m. | Contemporary Worship |
| | | Sunday School |
| | 11:00 a.m. | Traditional Worship |
| | 7:00 p.m. | Disciple 3 Fast Track Bible Study |
| Monday | 7:00 p.m. | Voices of Victory rehearsal |
| | 7:30 p.m. | Prayer Group Meeting |
GIVING TUESDAY
Giving Tuesday is a global generosity movement unleashing the power of radical generosity. Giving Tuesday was created in 2012 as a simple idea: a day that encourages people to do good. Since then it has grown into a year-round global movement that inspires hundreds of millions of people to give, collaborate, and celebrate generosity. So, instead of splurging on Black Friday this year for things you may not really need consider splurging in generosity on Giving Tuesday by giving through Christ UMC to these mission partners:
Emergency Relief Association
Wee Care Family Shelter
Congo Partnership
Heifer Project
You may give online on our website or by sending a check to the church office. Just identify your as being for "Giving Tuesday" so we can keep it separate from your regular giving. Gifts will be divided evenly between the four mission partners listed, unless someone specifically identifies their gift as being given for one of those four mission partners.
ADVENT CAFÉ
Our café will be opening for business in December, running each Sunday from 9:00 a.m. to 10:45 a.m., and serving coffee, tea, and cake or muffins with a side of great fellowship. And at the bargain cost of $1.00 (unless you would like to donate more because the proceeds go to our various mission causes). To offer to bake, or set up and clean up, on one of the Sundays in December, sign the Advent Café sheet on the bulletin board opposite the Welcome Center. To keep everyone safe, we ask people to wear masks when not eating and to observe the social distancing ways we have tables set up.
THE JOURNEY TO BETHLEHEM
We will be hosting a drive-through nativity again this year. It will be on December 5th, from 6 pm to 8 pm. To make it happen, we need helpers to do the following:
Donate WASHED OUT GALLON JUGS for luminaries.  They can be dropped off at the office during the week.
Volunteer to be a NARRATOR or BIBLICAL CHARACTER (with no lines to say).  To volunteer, contact the church office!
CHRIST UNITED METHODIST WOMEN
Christmas meeting – Monday, December 6 at 1:00 p.m. Bring a dessert to share!
Come prepared to play some of Lynnette's "Christmas Bingo". Don't forget to bring a friend along. Prizes for all!
CHURCH CONFERENCE
Each year, we have a meeting to approve the budget, elect people to committees and ministry teams, and share mission and ministry information that is hard to put in weekly announcements. The meeting is typically called a Charge Conference. But when it is named that way, only certain elected leaders can participate. So we always designate it as a "Church" rather than "Charge" Conference because the Book of Discipline allows all members to participate that way.
This means that YOU are invited to join us on Friday night, December 10 at 6:45 p.m. for this year's CHURCH CONFERENCE. It will be chaired by our District Superintendent, The Rev. Dr. Andrew Foster, III. There will be exciting news to share about several new ministry opportunities. And there will be important items of business that we will need to make decisions about to help us continue to "Know, Grow, and Go" as disciples of Jesus in 2022 and beyond. So mark your calendar for that night, and join us that night.
CARE TEAM HELPERS
One of the ways our Care Team helps people is through helping people who might need help with meals when they are injured or come home from the hospital. Another way they help people is through coordinating rides to doctor's appointments if someone is unable to drive or does not have their normal driving helper available. If you can help in either of those ways once a month, please let Judy Austin know.
SCRIP
We are continuing to sell scrip for Shoprite and Giant food stores, as we receive 5% back from what you spend. We are also continuing to collect receipts from the 5 Brown owned Shoprite stores in the area (from receipts no older than 5 months), and from Redners as we get 1% back. To get credit from Redners, you must swipe your card. To buy scrip, contact the church office, or Judy Austin. Receipts can be dropped off on Wednesdays from 10 am to 12 pm.
INCOME ISSUES
If you need help, or know of someone who does, please contact the church office. We have funds available to help those in need. If you need someone to shop for you (so you don't have to go out), or would like to shop for someone who shouldn't go out, please contact the church office.
PRAYER GROUP
Mary Ellyn Kunz is coordinating a prayer group named "Let's Pray on That." They are meeting on Monday nights at 7:30 PM in the church grove (across from the parsonage at the back of the parking lot). You can be part of the group even if you are not comfortable praying out loud; God hears silent prayers, too! Call Mary Ellyn for more information, or to join the group.
ALUMINUM CANS
Help maintain our church property by putting used aluminum cans in a secure bag or packaging, and placing them in the BROWN BOX at the parsonage end of the parking lot.
PRAYER SHAWL MINISTRY
If you would like to give comfort to someone you know with a prayer shawl or a prayer blanket contact Suzanne Generose, Dot Gerhart, or Mary Lou Reside. Donations gladly accepted!
PRAYER LIST
We publish the prayer list in the emailed announcements and in the printed Christ Courier bulletin insert that we produce each week. If you do not have access to those, or want to add someone to the prayer list, contact the office, Beckie Teenie, or Jen Chrostowski.