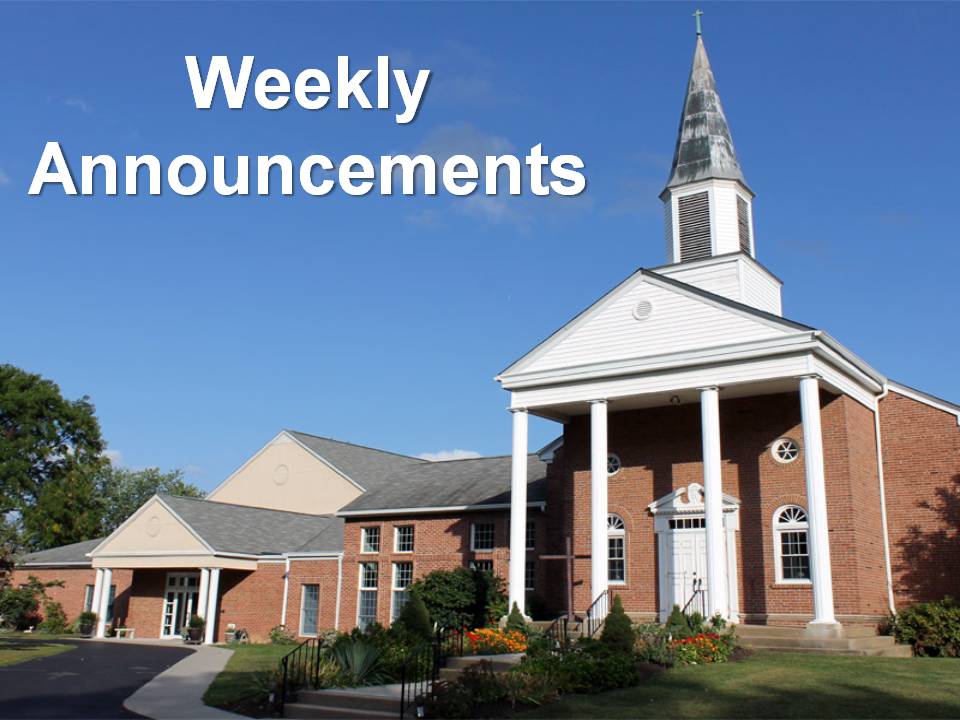 THIS WEEK'S ACTIVITIES
Sunday
9:00 a.m.
Contemporary Worship
(Facebook and parking lot FM, and sanctuary)
11:00 a.m.
Traditional Worship
(Phone and parking lot FM, and sanctuary)
7:00 p.m.
Disciple 2 Bible Study
Monday
7:30 p.m.
Prayer Group Meeting – by phone
Sunday
9:00 a.m.
Contemporary Worship
11:00 a.m.
Traditional Worship
PANDEMIC RESTRICTIONS LIFTED
Beginning January 10, the sanctuary will be reopened for in-person worship.  However, we continue to encourage everyone who can do so to worship with us virtually – through Facebook, by phone, and over FM radio (channel 87.9) in the parking lot.  The information you need to do that is as it has been for the last few months.  Other ministry and mission activities also may resume, but with the restrictions that were in place before the recent reinstatement of tightened restrictions.  If you are unsure about what that means for your group, please contact the church office.
GOSPEL TRUTH IN A FAKE NEWS WORLD
Next Sunday we will start a worship series that looks at how some people mistakenly think the "Good News" of the gospel is not true, but the "Fake News" of a conspiracy theory, the error of superstitious beliefs, or the false beliefs of pre-scientific understanding.  If you know someone who struggles to believe in Jesus, or has bought into the hype that Christianity is not true, this is the sermon series to invite them to listen to – and they don't even have to come into the building to hear the truth of the gospel of Jesus Christ.         
BAGS OF BLESSINGS AND SHARED BLESSING BOXES
Our next Shared Blessings Box distribution will be Saturday, January 16 at 2:00 p.m. Please call the church if you know someone in need. Call the church office if you have food to drop off.  We need canned and dry goods for the boxes.
MISSION AND DESSERT NIGHT
We will not be able to have our usual time of fellowship, dessert, and learning about the many mission involvements occurring in and through our congregation. However, beginning January 31st, and continuing through the next week, we will share online through Facebook and our church web page, information about how we as a church are involved in mission work (even in a pandemic) and how you as an individual (even in a pandemic) can help us continue to do that work.
2021 OFFERING ENVELOPES
We thank everyone who gave generously during 2020. Your gifts enabled us not to end the year with a deficit. As we move into 2021, many of the church's expenses continue (even though some are reduced since we are not in the building as much right now). So we need you to continue to give generously. To help you with that, 2021 offering envelopes are sitting in the lower lobby, just inside the double glass doors. You can pick them up each Sunday, and any time the office is open during the week.
SNOW SHOVELING
Since we do still have certain church activities occurring, we still have someone under contract to plow the parking lot when the snow is deep. We also still need people to help shovel when we just have an inch or so, and also the help clear the walkways no matter how much snow we get. To offer to help, call Ken Evans or the church office.
COMPASSION 2021
This time of the year we usually have our Compassion Sponsorship drive. Due to our present conditions it would be difficult (almost impossible) to get the forms to everyone and then the envelopes. If you have helped sponsor children in the past and would like to continue into the new year, you can. If you haven't contributed before but would like to help these children, you can. To do so, just send your donation in an envelope to Christ United Methodist Church, 501 Wistar Rd. Fairless HillS, PA 19030 marked Compassion (add your name and number) once a month or as often as you are able. Please help us with this new system for our sponsorship. We don't want to let the children down!
CHURCH WORK DAY
In order to keep the building and property in good condition so we put our best foot forward for visitors, the Trustees have typically scheduled work days for members to come out and help us keep the building clean and repaired. Since the pandemic began to shut things down last March, we have not been able to safely gather people together to do this however. As we move into 2021, we have a suggestion to address this need, which has not gone away. If you are willing to come up to the church as some point each month, and work on a task that the trustees identify as needing done, contact Ken Evans. There are plenty of things you could do to help us not fall behind on our maintenance needs.
WORSHIP SERVICES
Our 9:00 am contemporary service is available on the church Facebook page. To join us, go to: www.facebook.com/ChristUMCFairlessHills/
Our 11:00 am traditional service is available by phone. Call the church office to get the call in information.
Both services also are available by FM radio IN THE PARKING LOT. To listen in your car:
Follow the directions of parking lot attendants to park.
Park in a spot with your car facing the church.
Park in a spot that does not have a tree in your sight line
Tune your car radio to the FM station setting of 87.9
SUNDAY SCHOOL
Since we are still in a time of uncertainty regarding the safety of our children gathering together in groups, we are uncertain when we might be able to restart regular graded Sunday school classes. Our hope is that sometime this year, we still might be able to do start up again however. But to offer something right now, we want to let parents know that Cokesbury has free Sunday School videos and curriculum online. You can find it at: https://www.cokesburykids.com/free-resources
NEW SOUND AND VIDEO MINISTRY
For the last 6 months, most of our members have had to worship with us virtually. This may continue for months to come. To continue to make that process more reliable and easier to view, we are adding some electronic streaming equipment.
Electronic equipment does not run itself however. We need to put together a team to help us "go live" each Sunday. The work is not difficult. Anyone familiar with computers/electronics can do it. But we need people to say "I will help!!!
An added benefit is that this new way of providing virtual access to worship will not end when "Covidtide" passes. People will be able to worship virtually when they have a cold or are away. An an even bigger benefit is that we can invite new people to join us in being about "the 1 thing" of relationship with Jesus through this virtual ministry. But to make this happen, we need people to say "I will help!" Sign up to be part of this new ministry today! Contact the church office to say "YES, I will help!"
DISCIPLE 1 BIBLE STUDY
Disciple is a dynamic approach to Bible study. Participants read through the entire Bible, use a preprinted study guide to record what they learn, and participate in a weekly meeting to discuss that week's topic. The purpose of Disciple is not just to provide knowledge about the Bible, but to help people become (and mature as) a follower of Jesus Christ. Right now, we have not received enough responses to run a Disciple 1 group. If you are interested, contact the church office right away so we can set a start date if enough people respond!
SAFE SANCTUARY REQUIREMENTS
While we don't know when activities with children and youth may resume, we need to be make sure it will be in an environment that is safe in every way. Our Safe Sanctuary policy requires everyone who works with children and youth to have up to date Child Abuse History and State Police clearances. Please see if your reports have expired, and if they are submit new applications.
PRAYER GROUP
Mary Ellyn Kunz is coordinating a prayer group named "Let's Pray on That." They are meeting on Monday nights at 7:30 PM in the church grove (across from the parsonage at the back of the parking lot). You can be part of the group even if you are not comfortable praying out loud; God hears silent prayers, too! Call Mary Ellyn for more information, or to join the group.
PRAYER SHAWL MINISTRY
If you would like to give comfort to someone you know with a prayer shawl or a prayer blanket contact Suzanne Generose, Dot Gerhart, or Mary Lou Reside. Donations gladly accepted!
THE UPPER ROOM
The Upper Room is available in a virtual manner. To download a PDF version, use the following link: www.upperroom.org/standingorderchurhces. Since this publication is copyrighted, they do ask however that you do not republish it in any way (like on Facebook). You can, however, forward the PDF copy to someone by email if you wish to share it with a friend.
SCRIP
We are continuing to sell scrip for Shoprite and Giant food stores, as we receive 5% back from what you spend. We are also continuing to collect receipts from the 5 Brown owned Shoprite stores in the area (from receipts no older than 5 months), and from Redners as we get 1% back. To get credit from Redners, you must swipe your card. To buy scrip, contact the church office, or Judy Austin. Receipts can be dropped off on Wednesdays from 10 am to 12 pm.
ALUMINUM CANS
Help maintain our church property by putting used aluminum cans in a secure bag or packaging, and placing them in the BROWN BOX at the parsonage end of the parking lot.
CLEANERS
We need people who are not in an at risk category to help clean the worship area after each service. Contact Ken Evans to volunteer.
USHERS, GREETERS, DOOR AND PARKING LOT ATTENDANTS
We need people not in an at risk category to serve in these roles for the first month or so. Contact Andy Rozek to volunteer.
INCOME ISSUES
If you need help, or know of someone who does, please contact the church office. We have funds available to help those in need. If you need someone to shop for you (so you don't have to go out), or would like to shop for someone who shouldn't go out, please contact the church office.
PRAYER LIST
We publish the prayer list in the emailed announcements and in the printed Christ Courier bulletin insert that we produce each week. If you do not have access to those, or want to add someone to the prayer list, contact the office, Beckie Teenie, or Jen Chrostowski.