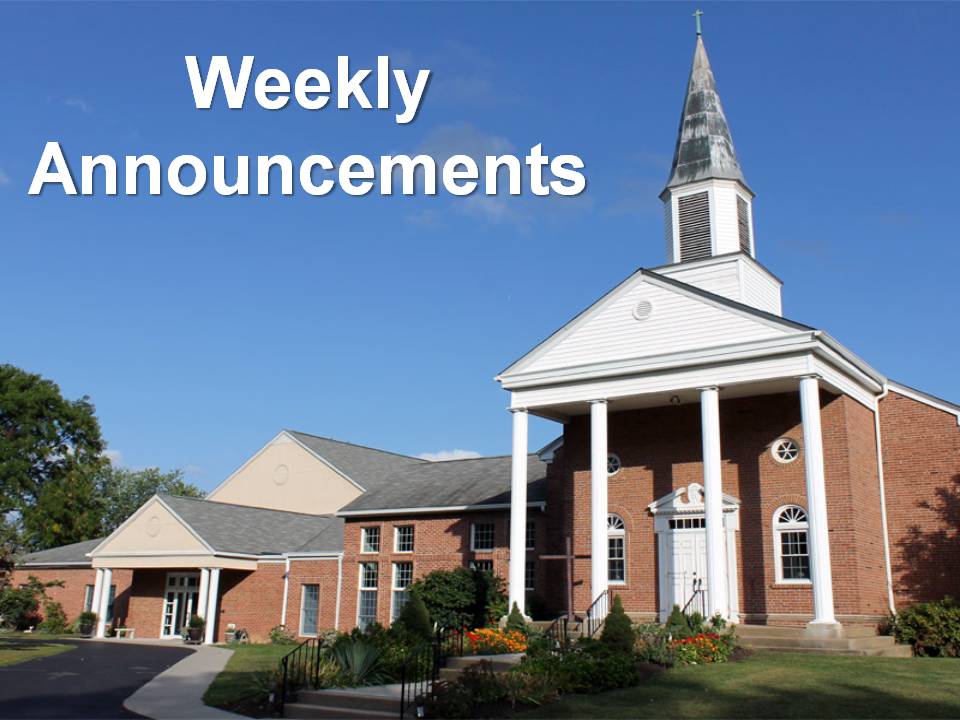 Sign up for our email newsletter to receive these updates in your inbox each week.
THIS WEEK'S ACTIVITIES
Sunday
8:00 a.m.
Traditional Worship
(Phone and parking lot FM, and sanctuary)
9:30 a.m.
Contemporary Worship
(Facebook and parking lot FM, and sanctuary)
11:00 a.m.
Traditional Worship
(Phone and parking lot FM, and sanctuary)
7:00 p.m.
Disciple 2 Bible Study
Monday
7:30 p.m.
Prayer Group Meeting
Tuesday
7:30 p.m.
Finance Committee Meeting
Thursday
7:00 p.m.
Disciple 1 Bible Study
RETURN TO THREE WORSHIP SERVICES
As more and more people are getting vaccinated and seeking to return to in-person worship, we want to make sure we have enough room to continue safe social distancing. To help with that, we are going to return to having three worship services. Since we also want to continue to be able to allow people to enter and leave the sanctuary without too much crowding and continue to clean/sanitize after each service, the times for the three services will be as follows:
8: 00 a.m. Traditional Service
9:30 a.m. Contemporary Service
11:00 a.m. Traditional Service
PLEASE NOTE: this means that the first service will be restarting 15 minutes earlier than it began pre-Covid (8:00 a.m. instead of 8:15 a.m.), and the second service will be return to its pre-Covid time (9:30 a.m.). The third service will continue at its regular time (11:00 a.m.)
PRAYER REQUESTS
If you would like someone prayed for in worship in addition to being on the prayer chain or prayer for by one of our prayer groups, please contact the church office by Friday each week. Please note, however, that since are now live streaming our worship services, we will be praying for people by name but not identifying reasons for the prayers. If you would like to know that information, please join the prayer chain or one of our weekly prayer groups.
ALTAR FLOWERS
The flowers on the altar for June 20 are given by Gene Austin in honor of Gene and Judy's 50th Wedding Anniversary! Congratulations!
MISSION PARTNERS
Our June Mission partner is Red Bird Mission. To help them keep the vehicles they need for their many ministries repaired and running, we will be collecting financial donations all month.
CHURCH RETREAT
Pocono Plateau has a reservation for us for a retreat on September 10-12. We will need to let them know soon if we will be there, or if we are cancelling again this year. If you are willing to go, please contact the church office and let us know. If we have enough interest, we will publish registration/payment forms.
RALLY DAY
After typically having less programming over the summer, Rally Day is when we normally return to a new year of Sunday School, Bible studies, and other fellowship and ministry activities. This year, we are planning for Rally Day to be a celebration of the opportunity to return to in person worship, a more normal schedule of activities, and ways to be in fellowship with one another. More details will be released, but for now block off September 10, 11, and 12 on your calendar so you can be with us for the great events we have planned!
CHRIST UNITED METHODIST WOMEN
As our lives slowly return to normal, we plan to use the summer months to plan a new year of interesting programs for the women of the church. If you have any ideas for programs for the fall or the upcoming church year, please contact Brenda Adams, Beckie Teenie or Lynnette Wray. Have a safe and happy summer!
VACATION BIBLE SCHOOL
As always, VBS is planned for the last week of June. Like last year, however, we will not be having an in person program, but will provide links to a video based experience that you can do with friends, family, and neighbors. There will also be a craft packet that you will be able to pick up at the church on Sunday afternoon, June 27. Sign up here.
SUNDAY SCHOOL
We would like to resume in person Sunday School on September 12. To do that, we need teachers, classroom helpers, and other adults to make it happen. If you are willing to help, please contact the church office and let us know what you would be willing to do.
ELECTRONIC GIVING
You can give toward our mission partners as well as our own ministries by writing a check, using your bank's online bill pay process, and electronically through our website. To do so, just click here. You can then make a one-time gift, or set up regular giving (so your gifts are made automatically even when you are not able to make it to church). It only takes a few minutes, and can be done from wherever you have internet access. Try it today!
THE GIVING GARDEN
The food from our church garden goes to our monthly Blessing Ministry. But to do that, we need help throughout the spring and summer with watering, harvesting, and occasional weeding. If you would be willing to help, please contact Karen MacLaren or Becky Teenie in the office.
BLESSINGS MINISTRY
We are providing "Bags of Blessings" on the first Saturday each month (with food donated by local businesses) and "Boxes of Blessings" on the third Saturday each month (with canned goods and nonperishable food items donated by our members). Call the church office if you are willing to serve God and neighbor in this way. NOTE: If you cannot donate food items because you are not out shopping, or can't make it to church, you can add a gift to your regular giving labeled "Blessings Ministry." That will allow us to purchase needed items.
LIVING AS THE BELOVED COMMUNITY
A six week study about unity, diversity, and Christian faith
Genesis declares that humanity was created in the image of God. Since God is a triune being of community, bound together in deferential love, this should lead humans to relate to one another in deferential love. This has often not been the case however. Divisions have occurred. Discord has cropped up. And the color of a person's skin has been the occasion of untold numbers of ungodly acts of prejudice and discrimination. Even amongst Christians. And even when Christians haven't actively participated in such things, sometimes they have sat idly by while God's beloved kingdom has been harmed.
Since God calls us to mirror His ways, you are invited to participate in a journey toward more fully "living as the beloved community." In this journey, we will look what God says about unity and diversity. We will look at what God says about the role faith should have in how we seek unity in the midst of diversity. And we will look at what God says we should do to help Him bring about the beloved community not just one day in heaven, but also in a significant way even in this fallen and sinful world.
To begin this journey, you are asked to watch a TED talk by Jerry Kang BEFORE our first meeting in July. It can be found at:
After you watch the video, you are invited to submit to Pastor Lloyd one question the presentation raised for you. They will be part of our conversation on the first night of our study.
SOUND AND VIDEO MINISTRY
We are still seeking to add people to the team of people helping run the new video equipment. Anyone familiar with computers/electronics can do it. To offer to help once a month, contact Jim Glaser, Lynn Pennell, Pastor Lloyd, or the church office. We will then set up a (very short) training time for you.
CLEANERS
We need several more people to help clean/sanitize the worship area after each service. Contact Ken Evans to volunteer.
SCRIP
We are continuing to sell scrip for Shoprite and Giant food stores, as we receive 5% back from what you spend. We are also continuing to collect receipts from the 5 Brown owned Shoprite stores in the area (from receipts no older than 5 months), and from Redners as we get 1% back. To get credit from Redners, you must swipe your card. To buy scrip, contact the church office, or Judy Austin. Receipts can be dropped off on Wednesdays from 10 am to 12 pm.
INCOME ISSUES
If you need help, or know of someone who does, please contact the church office. We have funds available to help those in need. If you need someone to shop for you (so you don't have to go out), or would like to shop for someone who shouldn't go out, please contact the church office.
USHERS, GREETERS, DOOR AND PARKING LOT ATTENDANTS
We need people not in an at risk category to serve in these roles for the first month or so. Contact Andy Rozek to volunteer.
THE UPPER ROOM
The Upper Room is available in a virtual manner. To download a PDF version, use the following link: www.upperroom.org/standingorderchurches. Since this publication is copyrighted, they do ask however that you do not republish it in any way (like on Facebook). You can, however, forward the PDF copy to someone by email if you wish to share it with a friend.
PRAYER GROUP
Mary Ellyn Kunz is coordinating a prayer group named "Let's Pray on That." They are meeting on Monday nights at 7:30 PM in the church grove (across from the parsonage at the back of the parking lot). You can be part of the group even if you are not comfortable praying out loud; God hears silent prayers, too! Call Mary Ellyn for more information, or to join the group.
ALUMINUM CANS
Help maintain our church property by putting used aluminum cans in a secure bag or packaging, and placing them in the BROWN BOX at the parsonage end of the parking lot.
PRAYER SHAWL MINISTRY
If you would like to give comfort to someone you know with a prayer shawl or a prayer blanket contact Suzanne Generose, Dot Gerhart, or Mary Lou Reside. Donations gladly accepted!
PRAYER LIST
We publish the prayer list in the emailed announcements and in the printed Christ Courier bulletin insert that we produce each week. If you do not have access to those, or want to add someone to the prayer list, contact the office, Beckie Teenie, or Jen Chrostowski.