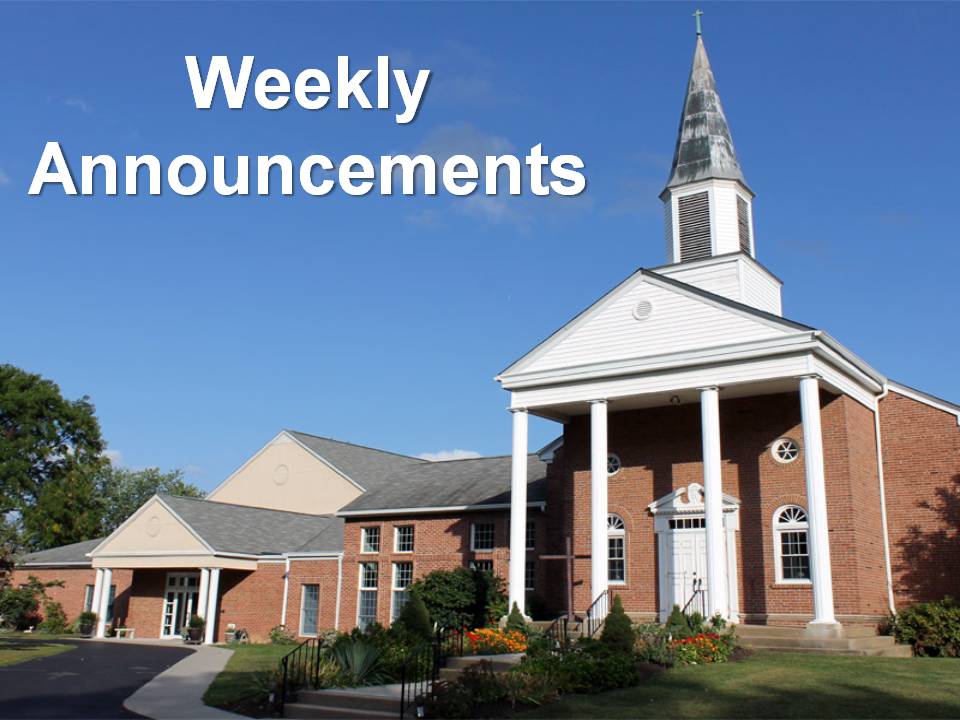 Sign up for our email newsletter to receive these updates in your inbox each week.
| | | |
| --- | --- | --- |
| Sunday | 8:00am | Traditional Worship |
| | 9:30am | Contemporary Worship |
| | 11:00am | Traditional Worship |
| Monday | 7:00pm | Voices of Victory rehearsal |
| | 7:30pm | Prayer Group meeting |
| Friday | | Church Retreat |
| Saturday | 2:00pm | Blessing Box Distribution |
SUNDAY MORNING WORSHIP MINISTRY HELPERS
Each Sunday, we need a team of people to help with the ministry tasks listed above. It not only takes a village to raise a child, it takes a church community to offer worship services each Sunday!
Please consider signing up for one ministry – this week the spotlight is on the Greeters. Handing out bulletins with a smile and welcoming everyone – you can do this!! Thank you!!
FOOD DISTRIBUTION- SHARED BLESSINGS BOXES
The next Shared Blessings distribution will be 2:00 p.m. Saturday, September 17. If you can donate food items or paper goods for the boxes, bring them to the church on Sundays or call the office to drop them off during the week. Items other than basic staples needed include instant milk, oleo or butter, soup, muffin mix, paper towels, toilet paper, tissues, napkins.  PLEASE NOTE: Donations of Ziploc plastic bags in sandwich, snack and gallon sizes are appreciated!
"WELCOME BACK, WELCOME HOME" OPEN HOUSE
Join your faith family for worship and fun filled events for all ages on September 25th, 8 a.m. to 12:00 p.m.  Come anytime during that time frame, and stay as long as you like for a celebration of our church "united in love and purpose."  Keep your eyes open, and your inbox refreshed.  More information will be coming soon.
2 NEW MINISTRY OPPORTUNITIES
We have 2 recent additions to the ministry opportunities we have been offering to help the members of Christ UMC "share Christ's love" with our community. But while we have people making the preparations necessary for each event, we need YOUR help. The Food and Fellowship Luncheon meets the 1st Wednesday of each month at 1 p.m. Invite someone you know to join you for good food and even better conversation! And on the 3rd Monday of each month, we have Game Day from 12:00 p.m. to 3:00 p.m. Invite someone to join you for a time of fun, conversation, and snacks. You can even bring your own game to share!
THE GIVING GARDEN
We have fresh vegetables needing to be harvested each week.  As we come to the end of the growing season, we will also need help to get the garden ready for winter.  If you can help, please contact Karen MacLaren at 215-801-7514 or the church office.  Financial donations are also appreciated.
MISSION PARTNER FOR SEPTEMBER: RED BIRD MISSION
One of our long-term mission partners has been Red Bird Mission. Each year, we collect money to help them with the maintenance of the vehicles they use in their ministries to help the community.  Recently, Eastern Kentucky was hit hard by flash floods, wiping out hundreds of bridges, damaging social service centers, and wiping out the homes of many people.  While Red Bird Mission itself was not damaged, they are heavily involved in helping those who were affected.  For instance, their dental clinic is helping other local clinics that lost everything.  Their clothing ministry has been providing clothing.  And they have been providing and coordinating a host of other disaster relief services.  This is especially important because the counties around them are some of the poorest in the country, and many of the residents there could not afford flood insurance.  For every $25 given, we will put a red bird in a window.  Join us as we help those in need. 
DISCIPLE BIBLE STUDY
Disciple is a dynamic approach to Bible study. Participants read through sections of the Bible, use a notebook to record what they learn, and participate in a weekly meeting to discuss that week's theme (as each week's scriptures revolve around a core theme). The purpose is not just to know what the Bible says, but to become a mature follower (disciple) of Jesus through understanding and then applying what it says to your life.
In September, we will be starting a new Disciple 1 group. In 24 sessions, Disciple 1 covers the entire Bible, with participants reading selected passages in the Old and New Testament (but not the whole Bible). If you're ready to grow in your faith as never before, plan now to participate!
In September, a Disciple 4 group will also be starting.  Disciple 4 covers the section of the Old Testament known as "the writings,' and the gospel and letters of John (including the book of Revelation).  Anyone who has taken Disciple 1 is invited to participate.
WORSHIP HELPER THANK YOU AND TRAINING EVENT
As disciples of Jesus, we are called to help people enter into (and grow in) their relationship with Jesus. To do that on Sundays, we need to provide what Bishop Shnase calls "radical hospitality." To help us have the skills and knowledge to do that well, we will be having a training event for all our worship helpers on October 8. To thank persons who have been serving as a "worship helpers," and to invite new people to join this vital ministry, we will begin with a brunch at 9 am, and then at 9:30 am move into a discussion about how the various roles of our worship helpers enable us (or make it harder to) show "radical hospitality" to everyone Jesus brings through the doors on a Sunday morning. Plan now to join us!
MINISTRY OPPORTUNITIES
We have 2 ministry opportunities that you can use to "share Christ's love" with people you know. The first is The Food and Fellowship Luncheon. It meets the 1st Wednesday of each month at 12 p.m. The second is Game Day. It meets on the 3rd Monday of each month, beginning at 1:00 p.m. Invite someone to join you for one or both of these monthly events. But that's not all! Beginning in October, we will be having a monthly Wednesday night dinner again. It will be on the 3rd Wednesday of each month. More details will be announced soon!
2022 CHURCH RETREAT
Friday, September 16th to Sunday, September 18th
Our annual retreat is a time of worship, fellowship, learning, and fun! There will be time to sit around the fireplace, have s'mores, and sing camp songs! There will be time to paddle a canoe, go fishing, take a hike, or just sit on the porch.
And This year, there also will be exciting additional activities available to us as part of a special event that Pocono Plateau is running that Saturday.
The cost for 2 nights lodging and 5 meals is:
Adults – $80.00
Youth (12-17) – $55.00
Children (7-11) $35.00
Children (3-6) – $30.00
Children (under 3) – free
Please return registration forms to the church with a $30 deposit by Sunday, August 7. (Full payment is due by Sunday, August 28)
STREAMING INFORMATION
For those not able to attend Sunday worship services in person for health reasons or being away, and for our members to invite others to join us virtually as a first step toward in-person worship, there are two ways to participate online:
Facebook:https://www.facebook.com/ChristMethodist
YouTube: https://www.youtube.com/channel/UCrYAAsXFbJfhJAFKET3fjOQ
PRAYER GROUP
Mary Ellyn Kunz is coordinating a prayer group named "Let's Pray on That." They are meeting on Monday nights at 7:30 PM in the church grove (across from the parsonage at the back of the parking lot). You can be part of the group even if you are not comfortable praying out loud; God hears silent prayers, too! Call Mary Ellyn for more information, or to join the group.
ALUMINUM CANS
Help maintain our church property by putting used aluminum cans in a secure bag or packaging, and placing them in the BROWN BOX at the parsonage end of the parking lot.
PRAYER SHAWL MINISTRY
If you would like to give comfort to someone you know with a prayer shawl or a prayer blanket contact Suzanne Generose, Dot Gerhart, or Mary Lou Reside. Donations gladly accepted!
SCRIP IS AVAILABLE
We are continuing to sell scrip for Shoprite and Giant food stores, as we receive 5% back from what you spend. We are also continuing to collect receipts from the 5 Brown owned Shoprite stores in the area (from receipts no older than 5 months), and from Redners as we get 1% back. To get credit from Redners, you must swipe your card. To buy scrip, contact the church office, or Judy Austin. Receipts can be dropped off on Wednesdays from 10 am to 12 pm.
PRAYER LIST
We publish the prayer list in the emailed announcements and in the printed Christ Courier bulletin insert that we produce each week. If you do not have access to those, or want to add someone to the prayer list, contact the office, Beckie Teenie, or Jen Chrostowski.