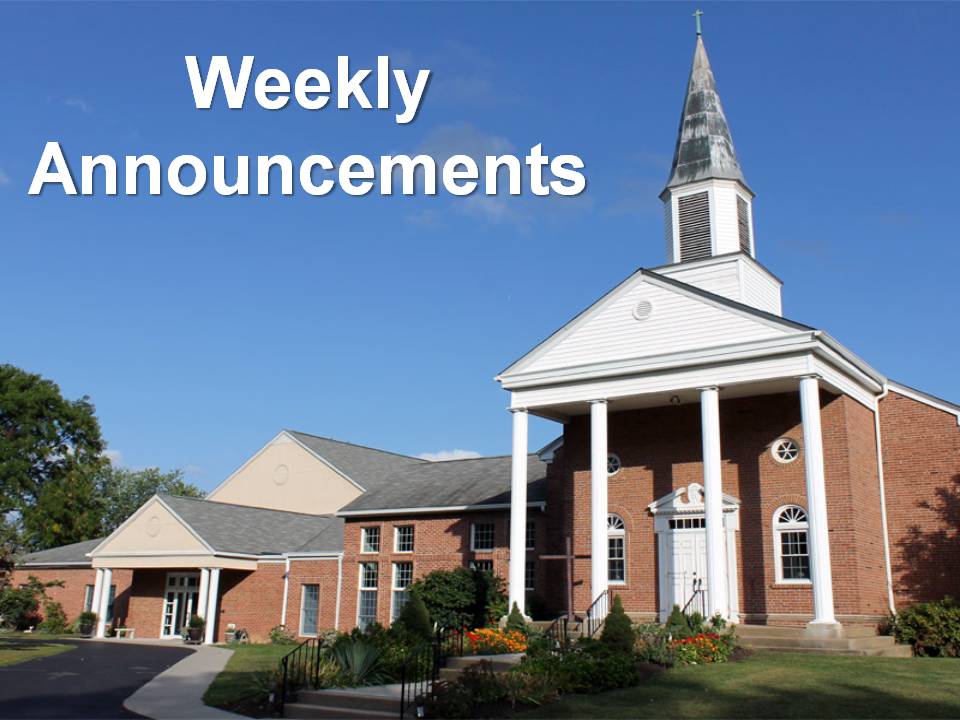 Sign up for our email newsletter to receive these updates in your inbox each week.
THIS WEEK'S ACTIVITIES
Sunday
8:00 a.m.
Traditional Worship
(Phone and parking lot FM, and sanctuary)
9:30 a.m.
Contemporary Worship
(Facebook and parking lot FM, and sanctuary)
11:00 a.m.
Traditional Worship
(Phone and parking lot FM, and sanctuary)
Monday
7:30 p.m.
Prayer Group Meeting
Thursday
7:00 p.m.
Disciple 1 Bible Study
RENEWED MASK REQUIREMENT
Given the rise in Covid-19 infection rates in our area, we have returned to requiring people to wear masks at all indoor church activities. We hope this is only temporary, but that will depend on further CDC and state health department guidance. For more information, see the separate email announcement.
ALTAR FLOWERS
The Roses on the altar this morning are given by the Care Team in honor of those being baptized, and the flowers are given by Sandy Speer in memory of her mother, Jeanne Hiser.
EVERY MEMBER MINISTRY COMMITMENT
We are continuing to look for servants of Jesus to for three pivotal roles to help us "introduce people to Jesus Christ." When guests arrive to be with us their first time, they need someone to help them know how to enter the building, to make sure they receive a bulletin, and to help them if they have a need. The three roles that are needed for this to happen well, we need people to serve as:
Parking Lot Attendants, Greeters, Ushers, Video Ministry, and Nursery Attendant
If you can serve in one of these ways, please contact the office today.
CHURCH RETREAT
We are having our annual retreat at Pocono Plateau September 10-12. Fill out the registration form in the announcements and turn it in if you are interested in going. You can put your reservations in the basket in the narthex or mail them to the office. This would also be a great way to invite to friend who doesn't have a church to join us for a fun event.
RALLY DAY
Plan now to join us on September 17, 18, 19 for our Rally Day weekend as we continue to move toward a more normal schedule of activities.  We'll even have the tent up!!  While some activities are still being planned, the first activity we invite you to is a concert by the country/swing band Tookany Creek.  It will be at 7:30 pm on Friday, September 17.  You can get a preview of what they are like in this Youtube video: www.youtube.com/watch?v=kgc4qZ8Vctk
You can also visit their Facebook page: www.Facebook.com/TookanyCreek
SUNDAY SCHOOL
If you have children or youth in your home, please respond to the email questionnaire that was sent out about starting Sunday School on September 17. If you did not receive the email, please contact the church office so we can add you to the email list. We need to determine if we have enough families interested in starting up Sunday School, and the questionnaire will give us that information.
If you do not have children or youth in your home, but are willing to be part of this ministry as a teacher, helper, or with music, please respond to the email and tell us how you would be willing to help.
MISSIONS TEAM CAFÉ
We would like to restart the Missions Team Café ministry on Sunday, September 19. To sign up to help, see the bulletin board. To inquire about what is involved, talk to Donna Puchino or call the church office.
"THE CHOSEN" MOVIE NIGHTS
Beginning Wednesday night, September 29th, we will meet at 6:30 pm for dessert, watch an episode of the series "The Chosen," and then have a short discussion around the Bible passages and characters in that episode. The episodes are extremely well-done, and would be a great way to "introduce people to Jesus Christ" or help them "become faithful followers" of Jesus. So plan now to join us for these events, and begin praying about whom you will invite to join you.
MISSION PARTNERS
August 29 is the last day to turn in school supplies to help the teachers and students at Armstrong Middle School.  Our Mission Partner for September will be the United Methodist Committee on Relief (UMCOR).  We will partner with them through their disaster relief offering for Haiti, in response to the recent earthquake in that nation.
SHARED BLESSINGS DONATION SUGGESTIONS
Peanut butter, jelly, crackers, cereal, bread, eggs, potatoes (fresh or canned) 
STREAMING WORSHIP SERVICES
We are now streaming our worship services. There are two ways to watch:
Facebook: https://www.facebook.com/ChristUMCFairlessHills
YouTube: https://www.youtube.com/channel/UCrYAAsXFbJfhJAFKET3fjOQ
To make this ministry as effective as it can be, we are still looking for people to help run the streaming equipment. It is easy to do, and we will train you. Contact the church office to sign up to help.
MASK REQUIREMENT
Since Bucks County exceeds the CDC guidelines of having no more than 50 infections per 100,000 residents in an area and more than 3% positivity rate for those tested for Covid before masks should be worn at indoor events, the Leadership Team has decided to follow that advice and require masks again for all indoor activities. [It is also advisable to wear a mask for outdoor activities if you are in a crowd, particularly if unvaccinated people could be present.]
We expect this to last through the end of August, but that will depend on how long the current rise in infections continues. If it continues to rise, or even stay high, the requirement may remain in place longer. See the email announcements for more information, and answers to common questions people have been asking.
ELECTRONIC GIVING
You can give toward our mission partners as well as our own ministries by writing a check, using your bank's online bill pay process, and electronically through our website. To do so, just click here. You can then make a one-time gift, or set up regular giving (so your gifts are made automatically even when you are not able to make it to church). It only takes a few minutes, and can be done from wherever you have internet access. Try it today!
SOUND AND VIDEO MINISTRY
We are still seeking to add people to the team of people helping run the new video equipment. Anyone familiar with computers/electronics can do it. To offer to help once a month, contact Jim Glaser, Lynn Pennell, Pastor Lloyd, or the church office. We will then set up a (very short) training time for you.
SCRIP
We are continuing to sell scrip for Shoprite and Giant food stores, as we receive 5% back from what you spend. We are also continuing to collect receipts from the 5 Brown owned Shoprite stores in the area (from receipts no older than 5 months), and from Redners as we get 1% back. To get credit from Redners, you must swipe your card. To buy scrip, contact the church office, or Judy Austin. Receipts can be dropped off on Wednesdays from 10 am to 12 pm.
INCOME ISSUES
If you need help, or know of someone who does, please contact the church office. We have funds available to help those in need. If you need someone to shop for you (so you don't have to go out), or would like to shop for someone who shouldn't go out, please contact the church office.
THE UPPER ROOM
The Upper Room is available in a virtual manner. To download a PDF version, use the following link: www.upperroom.org/standingorderchurches. Since this publication is copyrighted, they do ask however that you do not republish it in any way (like on Facebook). You can, however, forward the PDF copy to someone by email if you wish to share it with a friend.
PRAYER GROUP
Mary Ellyn Kunz is coordinating a prayer group named "Let's Pray on That." They are meeting on Monday nights at 7:30 PM in the church grove (across from the parsonage at the back of the parking lot). You can be part of the group even if you are not comfortable praying out loud; God hears silent prayers, too! Call Mary Ellyn for more information, or to join the group.
ALUMINUM CANS
Help maintain our church property by putting used aluminum cans in a secure bag or packaging, and placing them in the BROWN BOX at the parsonage end of the parking lot.
PRAYER SHAWL MINISTRY
If you would like to give comfort to someone you know with a prayer shawl or a prayer blanket contact Suzanne Generose, Dot Gerhart, or Mary Lou Reside. Donations gladly accepted!
PRAYER LIST
We publish the prayer list in the emailed announcements and in the printed Christ Courier bulletin insert that we produce each week. If you do not have access to those, or want to add someone to the prayer list, contact the office, Beckie Teenie, or Jen Chrostowski.