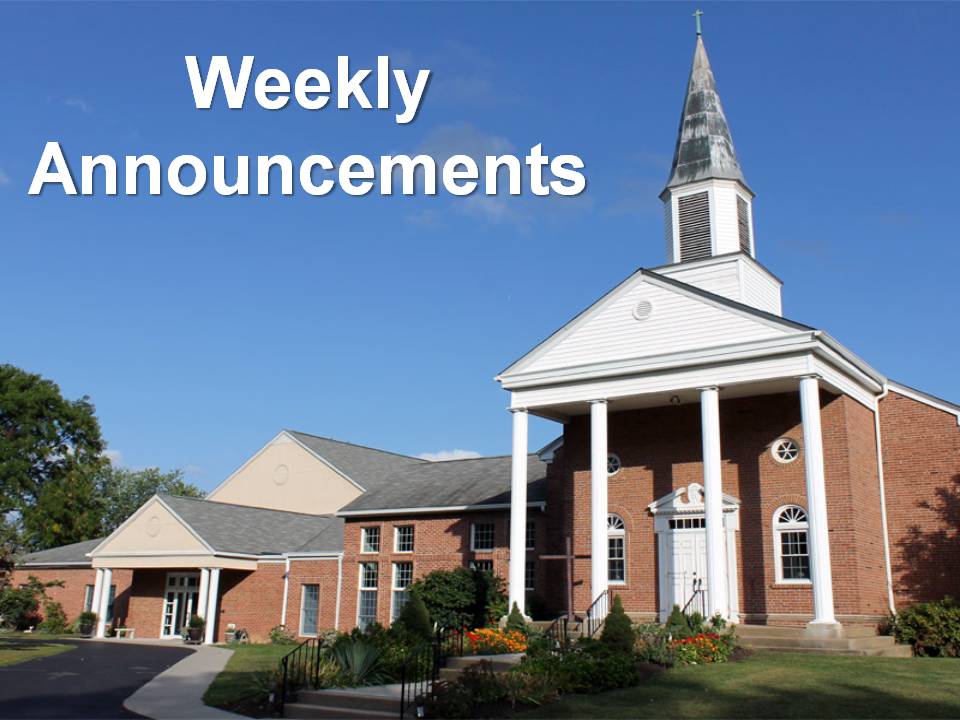 Sign up for our email newsletter to receive these updates in your inbox each week.
| | | |
| --- | --- | --- |
| Sunday | 8:00am | Traditional Worship |
| | 9:00 – 10:30am | Blessing Box Cafe |
| | 9:30am | Contemporary Worship |
| | 11:00am | Traditional Worship |
| | 7:00pm | Disciple 4 Bible Study |
| | 7:00pm | Voices of Victory rehearsal |
| Monday | 7:30pm | Prayer Group meeting |
CONNECTION CARDS
If you worship with us in person on Sunday's, please fill out your connection card and put it in the basket in the lobby! We need them to be filled out each week for many reasons. We have to keep a count of worship attendance. We want to be aware if someone is not present, and might need pastoral care. We want to welcome guests. You are also invited to put prayer requests on the back so we might pray for those in need. For those who worship with us online, you can tell us you are present in the chat box. To add someone to the prayer list, please email the church office.
GRADUATES
On Sunday, July 2, we will be recognizing 2023 graduates! If you know someone who is graduating, please let us know so we can recognize them. We also invite the graduate and family to be present that day in one of our worship services.
PENTECOST SPIRITUAL GROWTH EVENT
Get and read the book I Am a Christian: Discovering What It Means to Follow Jesus Together With Other Believers. They are available in the narthex. Then join us in worship beginning July 2 as we ponder what the scriptures say about such things, and on the following nights when we discuss readings in the book: July 5, July 19, August 2, and August 16.
VACATION BIBLE SCHOOL
Vacation Bible School starts tomorrow night! Parents who have not registered children, but still want them to attend, can register at the door. If you have wanted to help, but haven't talked to Beth Rozek Rozek (215-741-1299), please do so today. All helpers 18 and over need to have up to date clearances. Registration links for them are in the electronic announcements!
POCONO PLATEAU SUMMER CAMP
If you have a child (3rd to 6th grade) or youth (6th to 12th grade) you would like to send to summer camp (July 9-14), call/text Sarah Hicks (215-962-5755) or contact the church office. We provide 100% scholarships, but since the cost is about $450 we invite parents (and others) to help by donating to the Church Scholarship Fund. Label your gift "Church Camp Fund." Camp brochures are available at the Welcome Center or online at www.poconoplateau.org
RETREAT PLANNING MEETING
On Sunday, July 16 at 4 pm, we will have a meeting to discuss the Fall Retreat planned for September 8 to 10. There have been significant changes at Pocono Plateau, and we need to discuss if those changes will still work for us. If you have questions, talk to Shaun Hicks or Pastor Lloyd.
OFFICE MINISTRY TRANSITION
For more than 30 years, Beckie Teenie has faithfully served as church secretary/office administrator. We thank her for all she has done through those years. Beckie is not going anywhere, but will be stepping down from the office staff position in the near future. To make the transition in the office as smooth as possible, she will continue working 3 days each week for a while, and will we hire someone new for 2 days. That person will eventually move to fully holding that staff position for all five days each week. If you know someone interested in applying, please have them talk to Pastor Lloyd. An application can be obtained by emailing the church office at christunitedmethodist@comcast.net.
MISSION TEAM COORDINATOR
Through the ministries of 3 different pastors, Donna Puchino has served as the coordinator of the Mission Team. While she will continue to be involved in the mission work of our congregation, she would like to have someone else take over the responsibility of overseeing our various mission projects: Wawa collection, Giving Garden, Blessing Boxes, Compassion, and our Monthly Mission Partners. Some of those endeavors have someone coordinating them, but we need someone to oversee all of it, and help us respond when new opportunities to "share the love of Christ" arise. Talk to Pastor Lloyd is you feel called to serve.
BLESSING BOX CAFÉ
The "Blessing Box Café" is open for business, with proceeds going to the Blessing Box Ministry. We need volunteers to run the café each Sunday morning. Get out the pastries (no baking required) ahead of time and put on the coffee. To help, contact the church office or use the signup sheet in the lobby on the bulletin board across from the Welcome Center. If you can't make it to café', you can also contribute directly to the Blessing Box Food ministry by donating food, or funds so we can ensure each month's box has enough in it to truly help a family in need.
MONTHLY FOOD DISTRIBUTION- SHARED BLESSINGS
Our monthly distribution of good to families in need is the 3 rd Saturday of each month! We need donations of canned and non-perishable food items. If you are not able to shop, we also have persons who can do the shopping with funds donated for that purpose. To help in that way, label your gift as "Blessing Box Ministry".
EMERGENCY RELIEF ASSOCIATION
The Emergency Relief Association provides food to people in the lower Bucks County area. To do that, they are in need of 12 count egg cartons and paper or plastic grocery bags. Please them I the ERA box in the lower lobby.
GIVING GARDEN
We need helpers to harvest when things are ripe, water each week, and weed from time to time. Please talk to Ron Nichol if you are willing to help.
CARE TEAM
Please be in touch with the church office or any Care Team member to let us know where there has been a birth in the family, or where there has been the passing of a family member. The Care Team will place a flower on the altar in honor of your child or memory of your loved one. There also will be an announcement in the bulletin so your church family can share in the news of your joy or comfort you in your loss. This is one small way in which we can stay connected in Christian love.
SAFE SANCTUARY REQUIREMENTS
Our Safe Sanctuary policy requires everyone who works with children and youth to have up to date Child Abuse History and State Police clearances and attend an annual training event. The clearances are good for 5 years from the date on the report. If you help with ministries with children or youth in our church, please see if your reports have expired. If they are, please submit new applications, and then turn in the new clearances. If you missed the Advanced Training event on Saturday, February 18, the next training event will be on June 10, from 10 am to 12 pm. Please add it to your calendars so you are able to be present, and let either Pastor Lloyd or the office know you will attend. This is especially important if you wish to help with Vacation Bible School in June! The sites to get new clearances are:
Criminal Record Check: Pennsylvania State Police
https://epatch.pa.gov/home
Child Abuse History Clearance
https://www.compass.state.pa.us/cwis/public/home
Criminal Record Check: FBI (if you have lived in PA less than 10 years)
https://uenroll.identogo.com/ (using code 1KG6ZJ if you are a volunteer
SUNDAY MORNING WORSHIP HELPERS NEEDED
We need more greeters (parking lot and sanctuary), lay readers, acolytes, and streaming equipment helpers to serve on Sundays mornings. Please contact the church office to sign up.
ONLINE GIVING
If you are not able to make it to worship, please also remember that you can give online by going to our web site (www.christmethodist.net) and clicking on the "Online Giving" link. It's quick.
It's easy. And it's a great way to be generous.
STREAMING WORSHIP SERVICES
We are streaming our Sunday morning worship services for those not able to attend in person. To worship with us online, here is the information you need:
Facebook: https://www.facebook.com/ChristMethodist
Youtube: https://www.youtube.com/channel/UCrYAAsXFbJfhJAFKET3fjOQ

SCRIP IS AVAILABLE
We are continuing to sell scrip for Shoprite and Giant food stores, as we receive 5% back from what you spend. We are also continuing to collect receipts from the 5 Brown owned Shoprite stores in the area (from receipts no older than 5 months), and from Redners as we get 1% back.
To buy scrip, contact the church office, or Judy Austin, or stop by the Welcome Center on Sunday mornings. Receipts can be dropped off on Wednesdays from 10 am to 12 pm.ALUMINUM CANS Help maintain our property by putting aluminum cans in a bag, and placing them in the BROWN BOX at the parsonage end of the parking lot.
PRAYER GROUP
Mary Ellyn Kunz is coordinating a prayer group named "Let's Pray on That." They are meeting on Monday nights at 7:30 PM in the church grove (across from the parsonage at the back of the parking lot). You can be part of the group even if you are not comfortable praying out loud; God hears silent prayers, too! Call Mary Ellyn for more information, or to join the group.
PRAYER CHAIN MINISTRY
Are you ready to join us in the ministry of prayer? Join the prayer chain! It will help us send up many prayers for those in need. We have two ways you can participate: by phone or by email. Please contact Beckie Teenie for the phone prayer chain (215-943-2343 or 215-943-3329) or Jenifer Chrostowski at passingprayers2@yahoo.com
PRAYER SHAWL MINISTRY
If you know of someone in need of the assurance of God's love, please contact Suzanne Generose, Dot Gerhart, Mary Lou Reside, or the church office to get a prayer shawl. Each shawl has been blessed, and comes with the prayers of those who made them. You can also make donations for supplies if you desire.
PRAYER LIST
We publish the prayer list in the emailed announcements and in the printed Christ Courier bulletin insert that we produce each week. If you do not have access to those, or want to add someone to the prayer list, contact the office, Beckie Teenie, or Jen Chrostowski.
Note: We love to hear about answered prayers. Please keep us updated!